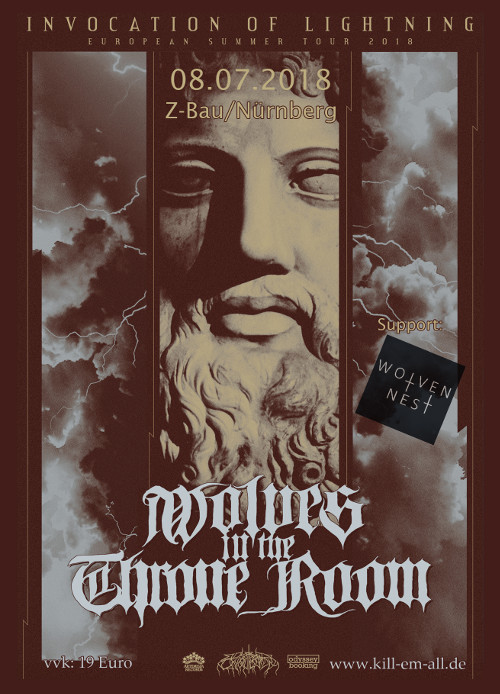 Doors: 19:30 | Start: 20:00

Tickets: 19 Euro oder mehr, falls man den Bands etwas mehr geben möchte.
Ticketreservierung möglich bis Mittwoch 04.07.18. Dazu ein Überweisung tätigen oder den Betrag per Paypal senden.
Bei Interesse eine Nachricht über Facebook oder eine Email an tickets@kill-em-all.de senden.

Hardtickets 19,00Euro : Erhältlich am Tresen im
Bela Lugosi / Marienstraße 25 / Nürnberg (ab 12.04.)

Hardtickets 19,00Euro + 1,00Euro Standardversand(Abholung an Kasse kostenlos): Email an tickets@kill-em-all.de

Hardtickets 19,00Euro + 1,90Euro Standardversand: http://killemall.bigcartel.com

Onlinetickets/Printtickets zum Ausdrucken 21,25: z-bau.reservix.de

Z-Bau(Galerie) / Frankenstraße 200 / 90461 Nürnberg
www.z-bau.com | Link to the Facebook-Event


WOLVES IN THE THRONE ROOM (Atmospheric Black Metal - Usa)
http://wittr.com/


Support ( - )



Wolves in the Throne Room re-imagine black metal as an ode to rain storms, wood smoke and the wild energies of the Pacific Northwest. Their first studio album, Diadem of 12 Stars (2006) was a genre-dissolving classic that created a melancholy and psychedelic Cascadian atmosphere.
Since that time, Wolves in the Throne Room have become one of the most potent and highly regarded bands in extreme music. The listener encounters crystalline metal riffs and ritualistic laments that sing of endless rain falling upon ancient cedars. Their music is a doorway into a mythic ethereal heathen landscape entered through music, magic and dreams.
Now, a portal into the dreamworld of Wolves in the Throne Room opens again with THRICE WOVEN. It is a glorious return to the blazing and furious Black Metal that they alone can create!